Cita
Carmencita S. Soriente-Reyes


---

August 10, 1955 - June 11, 1994
A Life Fully Lived in Love
Before it could "Begin at 40"
CITA was born August 10, 1955 in Meycauayan, Bulacan, as the third child and first daughter of Dominador P. Soriente and Fresca Santos-Soriente. Her younger sister, Myrna Soriente-Estrada, is now a medical doctor married to another. Her elder brothers passed away in infancy.
She was given the name Carmencita, carried the name "Carmen" in her school days and was also called "Menchit" at home. School to her was mostly St.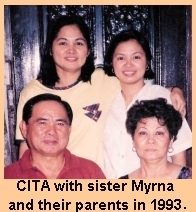 Paul College Manila (SPCM), but she attended college classes at the University of Sto. Tomas and the Far Eastern University and took correspondence courses with CAP College and UP College of Manila. It was at SPCM where she developed and practiced her capabilities for leadership, management and communication. It was also with her alma mater, specifically its off-campus extra-curricular educational activities that she developed her choice of what to use all those capabilities for: a social conscience and commitment to the upliftment of the least of His brethren.
It was this sense of commitment that made her forgo what would have been a medical career that was to start after she passed the entrance examinations at the University of the Philippines. She enrolled, instead, in schools where the students were effectively disempowered by school authorities under a pervading armosphere of a martial law dictatorship. This commitment eventually brought her to the mountains and fields of Central Luzon, and she was happiest among simple peasant families who grew to love both her leadership capabilities and her sincere personal bonding with them.
When the dictatorship was deposed, she took on new roles in the same consistent framework of untiring service to the people. She became a leading advocate of press freedom, women's rights, and people's empowerment, working as a contributing writer to various publications (like Health Alert, journal of the Health Action Information Network; Pinoy Overseas Chronicle, a magazine for overseas Filipino workers; Press Freedom Advocate, magazine of the Philippine Movement for Press Freedom; the editor of one (Bidlisiw, of the Women's Development Technologies Institute), a columnist in another (Masa, a weekly newspaper in Filipino), manager of a communication outfit with nationwide reach, and a broadcaster (co-hosting a weekly program Kamalaysayan sa Himpapawid).
On top of all these, she was never remiss of her duties to her husband (Ed, more fondly called Ding, a fellow communicator and fellow traveller in serving the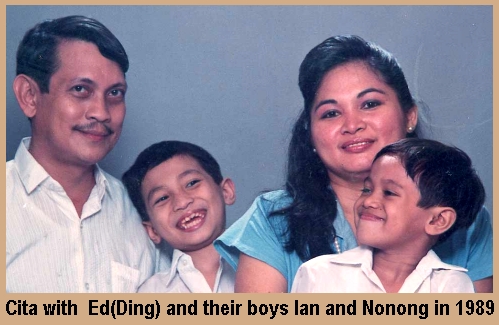 people) and their two fast-growing boys, Plebeian and Pilipino Amado, making and maximizing quality time to be with them in the routines of family life and some opportunities for movies and outings.
She was the main organizer in 1991 of Laban sa Kanser Inc. (LAKAS), a patient-centered support-network of care-givers and advocates fighting cancer through a synergism of information, efforts and fighting spirit. It was in one of her trips out in the ricefields of Pampanga, joining the group of peasant women planting rice that her small, almost unnoticable mole in the sole of her left foot got pricked and sent some cells of melanin up her foot muscle that later grew as a malignant melanoma tumor.
Refusing to watch the sunset idly, she plunged into cancer research herself and adopted a self-designed approach to fighting her cancer, which defied all gloomy prognoses about her "dying soon" and lived a full 15 years after contracting the disease (ten years after detection). Part of her legacy is a set of essays and notes which will form part of a forthcoming book, tentatively titled Facing Cancer Together. This will have Cita as main author, with Ed as her editor/co-author.
It was a full life she lived between all of six surgeries, that nobody suspected she had the "Big C." Those who were told would refuse to believe, and those who had to believe could hardly contain their admiration and amazement. Enriched by a deeper spirituality in her last year, Cita made out a "Living Will," wrote and circulated her profound thoughts linking spirituality with active service of the people in an unjust social order, and breezed through art lessons. Her talent now shines in paintings the Reyes family gave out as gifts during her last Christmas season.
Carmencita Santos Soriente-Reyes returned to The Source on June 11, 1994. Through the few decades of joys and sacrifices, big and small, Cita was giving up her life while living it most fully. She didn't really have to wait for life to "begin at 40."
And she lives on in all of us who have been blessed by her love and inspiration.
| | |
| --- | --- |
| Back to the opening window... | |
---